Owner Spotlight: Mathieu Girard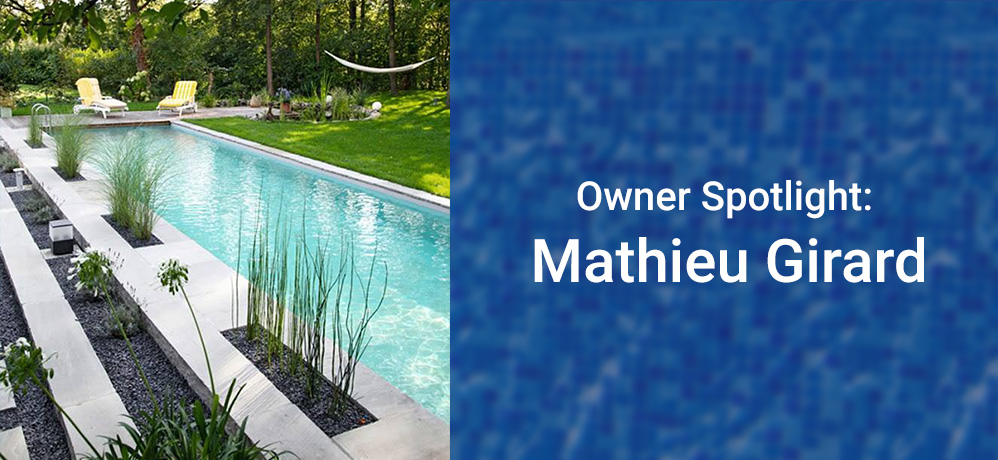 Hi, I'm Mathieu Girard, proud owner of BC Pools and Spas Ltd.
Today, I look forward to sharing my story. I hope that you will enjoy getting to know me better.
I love to bring joy to families. Having your very own pool is truly an exceptional experience; especially for kids growing up. Bringing this desirable asset into people's lives is very fulfilling!
Being self employed has been a dream of mine since I began working full time in my early 20's. The freedom, responsibility and motivation were all factors that drove me toward this goal.
I was born in Chicoutimi, Quebec. My family still lives in the area. I come from a huge family. I have over 30 aunts, uncles and 50 cousins. My mother was a French teacher, and accepted a job offer in Williams Lake, BC. That's where I attended and completed high school. It was a tough, swim or sink, way to learn English!
I started doing sub-trade contracts in the pool industry in 2008. Although I had been in the pool business for two years. We started by installing above-ground pools for retail stores. During this period we worked with other pool companies to learn the in-ground pool trade. Today, we still enjoy our above ground pool installation business for various retail stores in the lower mainland. We also offer full service installation of in-ground pools for our own customers. As well, we provide liner replacement services, concrete and wood decking and sell and install a range of pool supplies.
My work days can vary greatly. I do all the quotations, billing, and ordering the materials and tools. I deal with obtaining permits, while scheduling engineer and city inspections for various projects. After 11 years in the business, I still find myself pushing wheelbarrows, plumbing and installing liners. As you can imagine, my summers are incredibly busy, although I usually try to take some time off in the winter. The length of my workday can vary considerably. Sometimes I work 6 hours and others up to 14 hours in a day!
I face many important decisions. For me, the biggest would be the "concrete pour" when rain is a possibility but the concrete trucks and pump are waiting for our go ahead. This is a very stressful time!
To face everyday challenges in this business, I believe that my organization, patience, and persistence are key factors to my success. I also believe in the simple recipe of honesty, perseverance and lots of hard work to make my business run smoothly.
The most satisfying part of my job is that I am able to maintain a great lifestyle which can support my family as well. It's truly rewarding that my years of hard work with BC Pools and Spas Ltd. allow me freedom and security in my personal life.
My leadership style has been influenced by my cousin Daniel Cote. He was featured in a local newspaper for being the youngest CEO of a large company in the Saguenay region of Quebec. He was only 35 at the time. Daniel has helped me many times over the years. He has advised me on many subjects, such as: my first website, quotation templates and various business organization tasks. Any time I have a business related question, he is my mentor.
Additionally, Tesla is a company I greatly admire. They are a leader in researching alternative ways to power our daily vehicles. This is essential when we are facing a time of great threat to our planet. The challenge is summed up with the quote: "sustainability" and "CO2 reduction".
The environment is very important to me. I really love nature. I feel that our society could be doing much more to protect it. I donate to Greenpeace regularly and support my fiance as she studies for the protection of the environment, oceans and wildlife.
Growing up in northern Quebec and northern BC, hockey was always a huge part of my life. Today, I still play on several teams. The coastal mountains also are quite the treat. My fiance and I are avid mountain bikers, skiers and hikers. We also travel whenever we can, from California to Vietnam - we really love warmer climates!
My personal values are honesty, hard work and happiness. I believe these three things are important to both success in life and business, and I strive to adhere to them everyday.
I have enjoyed sharing my story about the things which matter to me and how they influence the way I do business.
If you, or someone you know could benefit from our expertise in high quality, custom pool design and construction with greater savings, I invite you to get in touch.
Sincerely,
Mathieu
---
---